Shop Our Warehouse Deals
Order a refurbished Smartconnect, was $1,099, now only $699*
GET YOUR SMARTCONNECT NOW!
Forgot everything you think you know about home gyms. The MAXPRO SmartConnect brings you the  latest revolutionary fitness technology in a Powerful Cable Machine that replaces an entire gym without needing all that bulky and expensive equipment.
We're not some stretchy rubber band tied to a door, our patented power clutch system is built with cables 15x stronger than steel by weight to withstand even the most powerful workouts.
Exclusive access to the MAXPRO Coaching App is included with your purchase.
Our main features are the following:
50 resistance settings from 5 - 300lbs at the turn of a dial
Compact & Portable. Folds easily, weighs under 10lbs
Bluetooth Connectivity to the MAXPRO App
Track your workouts & monitor progress
Follow along with professional trainers for fun and engaging workouts
Create personalized workouts and discover new exercises
GET YOUR SMARTCONNECT NOW!
Let customers speak for us
Great workouts
Love the MaxPro! As a beginner to lifting it is very simple and love it!
Good so far
Only thing is I wish the resistance dial was tighter or clicked into position sometimes it moves when I'm repositioning the machine and I'll have different resistance on each side.
Love it
Easy to install, excellent🫶
Great
Solidly built. Anything negative is just shade for no reason. I lift seriously and for anyone who wants a heavy workout at home but doesn't have the space for a full gym - this is it. The best. 160lbs a side gives you progression forever. Throw in some 1090 adjustables and with care it's all you'll ever need.
I really love it great work out
Awesome Workout Equipment
I've only been using it for less than a month and I've seen noticeable gains in muscle mass. With the right program and usage, anyone say goodbye to gym membership.
Great product! So convenient
GREAT, but do have a Conplaint
The device had replaced links, and charged. The one thing i have a compliant about is the when using the machine and having the weight set the same on both sides, when performing a lift the weight isnt the same. Example if the weight was set to 5 performing curls one side feels lighter than the other. To test I switched hands perform the same movement and i still feel the difference on the same side.
Love it
Love it and it's very convenient
Love It
IT's amazing. I havent found one thing in the gym I go to that I cant do with MaxPro in my own home. Kudos to the inventor. It's got a little AI going on, very cool
Must have!
If you have space for this, then just get it! It absolutely expands the possibility of what the MAXPRO can do. I haven't had any issues with it. I was worried about the types of screws included to anchor the plates to the wall. However, this is a flat plate anchored not a TV mount that extends outward causing a lot of torque on the anchor points. I.e it is secure and I don't worry about pulling it off the wall.
Great machine to augment your workouts
My fitness journey has transitioned as I have gotten older. Gone are the days of throwing around huge amounts of weight with no regard to my joints. Currently, I use the MAXPRO to get my weight lifting in. My workouts usually involve a strength training class (which gets the HR up) and then I transition to a weight class on the MAXPRO.
Using the MAXPRO is easy. It will take you a few sessions to get the hang of it and a few more sessions for the pulleys to smooth out. The unique thing about it is that it only gives resistance on the concentric phase. Think of starting a lawn mower. I personally like this because it feels safer on the joints for me. I know that in bodybuilding, eccentric muscle training is essential to hypertrophy. However, if you are looking to become a bodybuilder, you should search elsewhere.
This gives a great resistance/weighted workout without having a bunch of weights. Am I missing out on some eccentric training? Of course. But that is why I do a strength training classes in addition as well as resistance band training in the evening. I would recommend getting the complete elite package. I know it is pricey, but you really miss out on the bench and the secruity of the wall mount.
Buy this bench
Having purchased the MaxPro about a year and a half ago, I recently decided to buy the bench. The MaxPro has been an incredible addition to my home gym, which I decided to create when Covid hit and LA Fitness was no longer available. I live in an apartment and can't attach anything to the wall, but with the addition of the bench I can do everything I need to do, and more. The bench itself is beautiful, rock solid steady and worth every penny.
Love it so easy to use
Works get love how I can switch workout in like 20 seconds
Very smart and great idea
Love it so light and portable very smart idea
Unlock the MAXPRO experience at a fraction of our everyday cost
Inspected & Tested

Each unit has passed a 10-point inspection by our certified experts.

New Parts

Each SmartConnect has brand new cables installed on both sides.

2-Year Warranty

Our open box is backed by the same warranty as our brand new units.

Easy Setup

Ready out of the box, no complicated setup required.
No more excuses. Get a MAXPRO at a HUGE DISCOUNT!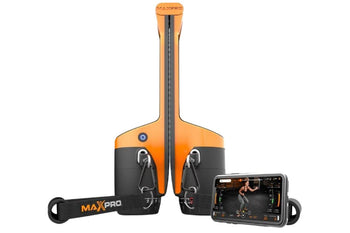 MAXPRO SC Portable Cable Machine
$699
Retail $1,199
(Save $500 )
Brand New Unopened Box

The SmartConnect is the latest in revolutionary fitness technology. A Powerful Cable Machine with 5-300lbs of adjustable resistance. Create your perfect home gym, no bulky equipment required.

INCLUDES:
MAXPRO SmartConnect in Sport Orange
- 2-year Warranty
- Metal3-piece Quick Connect Long Bar
- Set of Workout Handles
- Set of Ankle/Wrist Straps
- MAXPRO Door Mount System
- USB Charger
1 Month Premium Membership (subscription not required)
$699
Retail $1,199
(Save $500 )
Best Deal
SmartConnect Certified Open-Box
Certified Excellent Condition
*ALL OPEN BOX PRODUCTS ARE FINAL SALE*

INCLUDES:
MAXPRO SmartConnect (color will vary)
- 2-year warranty
- Manufacturer Certified, Passed MAXPRO's 10-point expert technician check
- 3-piece Quick Connect Long Bar
- Set of Workout Handles
- Set of Ankle/Wrist Straps
- MAXPRO Door Mount System
- USB Charger

1 Month Premium Membership (subscription not required)
Shipped in Original Packaging.
Note: Packaging may show marks or sign of wear from prior shipping
*all sales final*
*No Additional Discounting Allowed. All Refurbished Products Are Final Sale. Includes Full 2-year Warranty.
Working out from home has never been easier. Start moving now and pay later with no interest and affordable monthly payments.
Select

as your payment option during checkout.